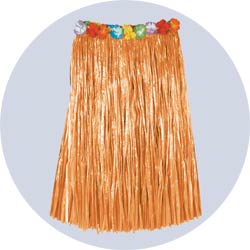 Hawaiian Nylon Hula Skirt, Tan
The Hawaiian Nylon Hula Skirt is made of tan nylon strands with a rainbow of silk flowers, 33-36 inch waist and 30 inch length. This hula skirt has velcro on the waist for easy wear that allows for 2-3 inches of adjustment. These hula skirts are great for hula dancing at a Luau Party or Hawaiian Party.

This item may only be shipped Ground Delivery.